Awards
Dr Wittneben's AMJ article on climate conferences (Schüssler, E., Rüling, C. and Wittneben, B. 2014. "On Melting Summits: The Limitations of Field-configuring Events as Catalysts of Change in Transnational Climate Policy" Academy of Management Journal 57 (1): 140–171) has been awared Best Paper 2014 for the Academy of Management Journal.

The paper has also been declared Runner-Up for the 2014 NBS Research Impact on Practice Award. This award recognizes a piece of contemporary, peer-reviewed research that has important implications for practice. The Network for Business Sustainability (NBS) is co-sponsoring this award with the Organizations and the Natural Environment (ONE) Division of the Academy of Management.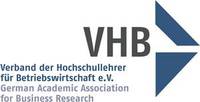 The AMJ article was also awarded the Best Paper Award by the German Academic Association for Business Research (VHB). Dr Wittneben and her colleague Prof. Dr. Schüssler were presented with the award at the annual conference in June 2014.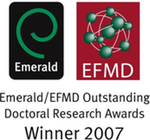 Dr Wittneben's research has been awarded the Emerald/EFMD Outstanding Doctoral Research Award in the category 'Management and Governance' and the journal Management Decision.